selected works - news + press - cv - about - contact



"I was once seafloor" Multimedia installation, 2023
"I was once seafloor" is a multimedia installation that examines rock as a site of material witness, historical record and industrial resource. Using place-based research, 360˚ video capture and material experimentation, the project explores the history of mineral extraction and the resulting industries and infrastructures that surround it.
This exploration stems from a curiosity of rock's ability to exist in complex and contradictory spaces: an intertextual material existing outside of language; an immovable hard surface with agency enough to reshape the Earth's landscape; an epistemological tool that is simultaneously a site of alternative temporalities. How can dialogues between humans, other beings, and matter help map the complexities of systems of interdependence? How can this mapping be used as a way to open paths for understanding and imagining the possible futures?
"I was once seafloor" uses Montreal's Francon Quarry as a research entry point. This open pit mine is centrally located in the Villeray–Saint-michel–Parc-extension burrough. It was deactivated in 1981, making way for a new life as the city's largest snow dump.
Production for "I was once seafloor" was supported by my residency with Ada X. An accompanying text by Lindsay Leblanc can be read here.

Installation images by Vjosana Shkurti.
"The Density of Dust" Video installation, 2022
An excerpt can be viewed here.
"The Density of Dust" is a video installation that uses material collection and close listening to explore a centuries old industrial building's history and its surroundings.
History forms foundation. It lends structure to numerous presents and futures, allowing them necessary space to expand and multiply. As these expansions take place, traces of the past remain. With time, they become harder to see, fainter to hear, and often impossible to reach. Using archival research and investigations of the site's internal landscapes, "The Density of Dust" aims to reveal some of the many layers of time and experiences the area hosts. In examining the building's traces, the work considers these layers with curiosity, while simultaneously attuning itself to the spectres that inhabit them.
"The Density of Dust" was commissioned by Fonderie Darling, Montreal, for their 20th anniversary exhibit "Tu m'enveloppes et je te contiens". A virtual gallery tour of the exhibit curated by Milly-Alexandra Dery can be viewed here.

Installation images by Simon Belleau.
"A Common Babble"
Audio installation, (in progress)
An excerpt of the project can be heard here.
"A Common Babble" is a five-channel audio installation that explores the relationships between birds, humans and the environments we share. The work brings together field recordings, ecoacoustics and translations of bird songs sung by vocalists to create a form of non-linguistic storytelling. In its installation, these soundscapes create a choral-like experience that speculates on empathic possibilities across species in our shared built and natural environments.
"A Common Babble" was made possible with the creative and sonic support of
Yoon Rachel Nam
and the vocalic contributions of Adam Schimdt, Anna Atkinson, Cedric Noel, Daniela Madrid, Drew Bathory, Edward Reilly, Fabienne Audeoud, Gabrielle Giguere, Galilei Uajenenisa Njembo, Julie Silva, Maxence Ferland, Mihnea Nitu, Patricia Yates, Sara Schabas, Soukayna, and Rihab Essayh.
The research and development for "A Common Babble" was made possible thanks to the financial support of Canada Council for the Arts. The production of this work was made possible thanks to the financial support of Conseil des arts et des lettres du Québec.
"Stone Tape: A haunting"
Video series, 2021
An excerpt can be viewed here.
"Stone Tape: A haunting"
is an episodic video series that, through the lens of the haunting, examines the relationships between lands and the beings that live with and on them. Inspired by community conversation and environment and historical research, "Stone Tape: A haunting" seeks to
ask what is lost when lands change? What impressions of the past still haunt these spaces? And what possibilities exist in that haunted space?
Production for "Stone Tape: A haunting" began during my time at the Maison d'Ariane Research Creation Residency, hosted by Jardins de Métis. This project has been generously supported by Canada Council for the Arts.
"On Interdependence" is a five part audio docuseries that uses history, stories, sounds, and music to explore different perspectives and examine the threats posed by the climate crisis in Montreal. Each piece features a humanistic portrait of the city, its surroundings, and the lives that occupy it.
From winter storms in Texas, to the acidification of the ocean, the climate crisis is often framed through warning signs that feel far away or nearly incomprehensible. How can we rearticulate our understanding of changing environments toward one that is more tangibly based in our communities? Created to be both educational and emotionally impactful, On Interdependence considers the changes happening in familiar places and spaces, while demonstrating the urgent need to work toward solutions.
"On Interdependence" emphasizes just how much our actions and behaviours affect the lived environments and the experiences of people, plants, animals, and all our planet's natural systems. The project signals the imminent need to care for our surroundings and each other and the imminent need for an understanding of interdependence.
Created, written and narrated by naakita f.k.
Production assistance and sound design by
Adam Mbowe
Scoring and audio engineering by
Simon Chenaux and Yoann Denesle
Graphic and web design by
angeli.ca
"On Interdependence" is the result of CJLO's audio storytelling residency for Sounds In Our Changing Worlds, a project aimed at creating audio content on the climate change emergency in Montreal. This initiative is made possible by the Community Radio Fund of Canada, the only organization mandated to financially support campus and community radio stations in Canada.
"Remaking Edgware"
Video, 2021
An excerpt can be viewed here.
Centered around a family's pre-war life in Leipzig and the experience of their flight path to the Caribbean, "Remaking Edgware" is a video artwork that aims to rediscover and reimagine a history made quiet by time, diaspora and trauma.
"Remaking Edgware" is grounded in the exploration of cultural and historical documents from personal and public archives. Through revisiting family stories, retrieving details from the past, and reimagining moments that might not have been committed to memory, the piece uses fact and fiction to create a dialogue between myself and the imagined voice of my grandfather. The work is an altar, an attempt to honour what we know happened, what we were told happened, and what has been left to the haze of the past.
"Remaking Edgware" was funded by the Museum of Jewish Montreal's Microgrants for Creative or Cultural Exploration program, with support from the Community Innovation Fund.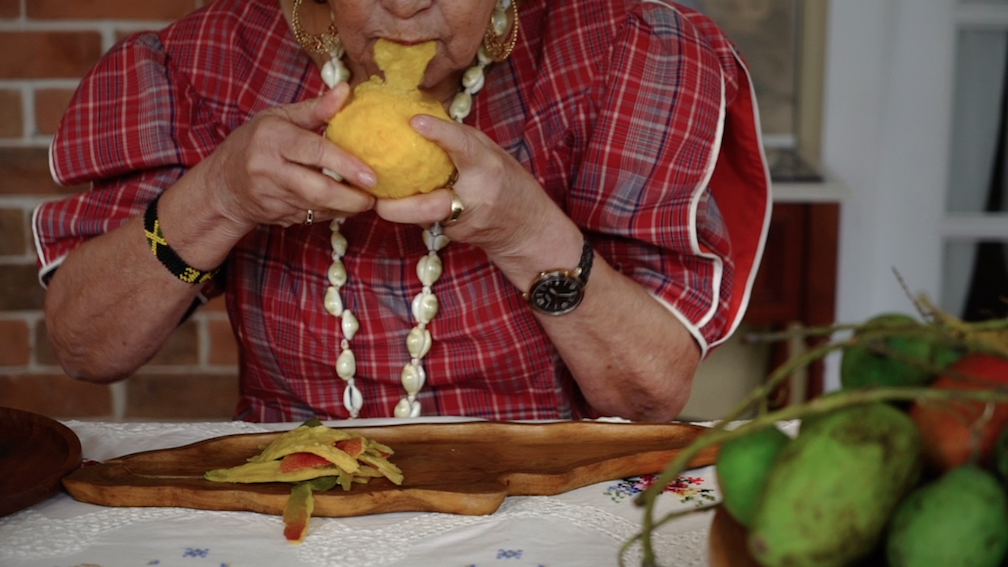 "Wednesdays, Before Piano."
Video installation, 2018
The installation's audio can be heard here.
"Wednesdays, Before Piano." is a video installation developed over a series of weekends spent with my grandmother in Ottawa. Through the close proximity and frequency of these visits, familial dialogue evolved into collaborative performance. The work seeks to affirm that through a process of intergenerational exchange, modes of understanding can be nurtured, and ancestral memory continued.
Using multiple channels of video projection and audio playback, the installation presents stories, experiences, and histories that are not fixed, but instead placed in constant interaction with one another. Examining the mutable nature of memory, questions are raised about how inherited narratives can serve to develop a sense of self, as well as construct the image of a past for which one was absent.
It is through remembering, re-remembering and speech that these histories are rendered active and pasts brought into a present tense. "Wednesdays, Before Piano." recalls, retraces, and remakes, while finding space for the gaps that occur in the process.
"Wednesdays, Before Piano." was funded by Digital Arts Resource Centre. Installation images by Guy L'heureux.

"Toward Be/Longing"
Print media installation, 2016

"Toward Be/Longing" is an anthology collected over countless hours spent perusing Craigslist's Missed Connections. This online forum exists as a space in which individuals can reach out to those they might not have had the moment, or the nerve to. This document was compiled to honour the international community of anonymous authors, all in search of something from a stranger.

Installation images by Corinne Beaumier.